All your DIY
must-haves

.

From cutting essentials to beautifully designed hand tools and everything in between, you'll have exactly what you need to realize every creative vision, making your labor of love an experience you'll love even more.
TrueControl Knife
Better control.
Beautiful results.
With its razor‑sharp edge, piercing tip, and superior blade lock system, TrueControl Knife gives you amazing precision and accuracy on a wide variety of materials.
Shop Now
Nothing to touch here.
Twist, click, push, pull. With our hands-free blade changing system, you'll never need to touch a blade again. And the storage cartridge makes it easy to track and dispose of used blades.
Cutting Rulers +
Self-Healing

Mats
Measures up to perfection.
Cricut Self-Healing Mats are extra-thick to keep you on point for every project. And the protective guard of the Cutting Ruler keeps your fingers clear of every cut.
Shop All
Cricut Hand Tools
Nimble tools to master every move.
Whether you need to smooth things out, grab a teeny edge, or cut something down to size, these carefully designed and engineered accessories ensure you've got the right tool for every crafting task.
Shop All
Cricut BrightPad™
For weeding, tracing,
and so much more.
With its adjustable LED light and ultra-slim profile, Cricut BrightPad lets you see every detail as you're weeding, tracing, paper-piecing quilt patterns, or jewelry making. It's especially suited to lighting up those hard-to-see cut lines in vinyl and iron-on.
Shop Now
Cricut BrightPad
Thin, light, brilliant.
It delivers a whopping 104 square inches of even light, offers 5 different brightness settings, and fits in a wafer-thin profile barely more than a quarter-inch thick. Yet it's tough enough to withstand a drop onto a tile floor. Cricut BrightPad is nothing less than brilliant.
Cricut Materials
Make your project shine every time.
Get inspired by our collection of diverse, high-quality materials, all designed to cut perfectly with Cricut machines. With finishes ranging from fun, flashy, and sassy to polished, rich, and refined, they make it easy to achieve exactly the look you're after.
Shop All
Cricut Cases
A home for everything.
Wherever home is.
Cricut premium cases provide organization, protection, and storage for your machine and supplies. Organize things at home, or take everything you need on the road. Stylish, sturdy, and functional, they're built to last a lifetime of DIY days and crafting nights.
Shop All
Rolling Craft Tote
With compartments for all your tools, accessories, materials, and more, it's like a cruise ship for craft supplies. Shop now.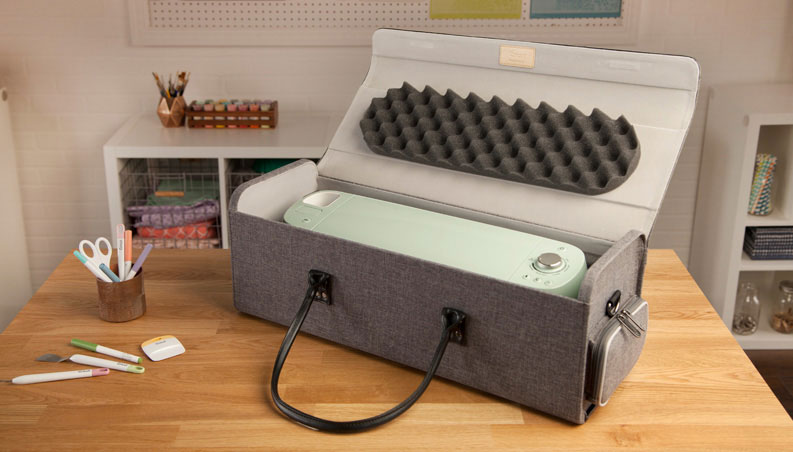 Machine Tote
Sleek and sexy, this tote pampers your Cricut machine with luxurious protection. Plus it stacks perfectly on the Rolling Craft Tote. Shop now.